What is Wi-Fi HaLow and what makes it the best solution for the IoT?
Wi-Fi HaLow is not only the next generation of Wi-Fi to extend distances and increase battery life for Wi-Fi-connected devices, but it also represents an exciting future of wirelessly connected people and devices across the IoT. Applications are endless, from sensors, actuators and security cameras to home automation, appliances and thermostats, all to improve user experience and productivity while reducing installation and operational costs.
Wi-Fi HaLow technology was recently standardized by the IEEE 802.11ah task group and received its name by the Wi-Fi Alliance (WFA). It operates in the unlicensed sub-1 gigahertz (GHz) frequency spectrum band and offers data-rates varying from hundreds of kbits/s to tens of Mbits/s and across distances of tens of meters to over a kilometer. Wi-Fi HaLow satisfies the scalability, robustness and security demands required to address the most challenging IoT environments.
While conventional Wi-Fi is the most ubiquitous wireless communications protocol in use today, the rapid growth of the IoT has forced a rethinking of Wi-Fi, revealed technological gaps and what role it needs to play in an all-encompassing connected world. The higher demands for long-range connectivity and low power requirements for many IoT and machine-to-machine (M2M) applications are ushering in Wi-Fi HaLow at an increasingly faster rate this year and for the years ahead.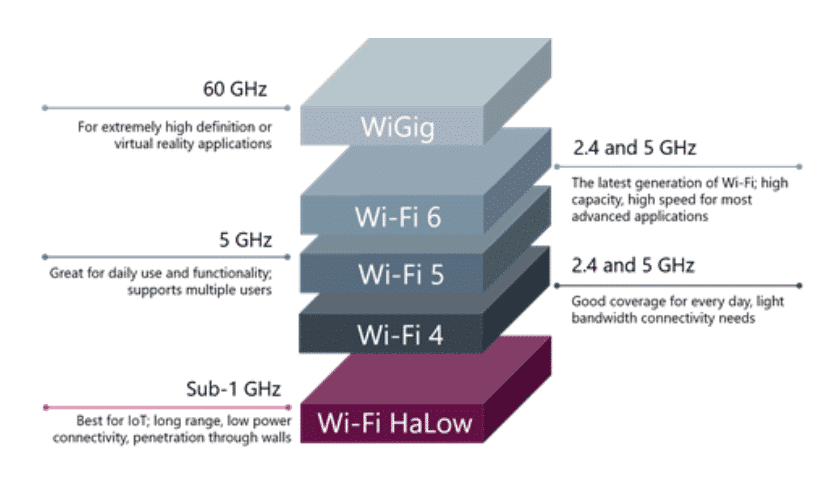 (Source: Wi-Fi HaLow: Expanding Wi-Fi for IoT applications, Whitepaper by Wi-Fi Alliance)
Traditional Wi-Fi vs Wi-Fi HaLow
Traditional Wi-Fi enables users to stream movies and download files quickly using wide channels of radio frequencies in the 2.4GHz, 5GHz and even 6GHz bands in the near future. The effective distance for these connections is short and they drain batteries fast, requiring frequent charging or a power connection.
Such limitations impede new IoT-centric business models that are emerging across industries, which require greater capacity, range and battery operation while minimizing deployment costs and timelines — all of which are highly desirable attributes.
Wi-Fi HaLow builds on the robust security and spectral efficient OFDM foundations, while utilizing narrower channels of radio frequencies under 1 GHz to better penetrate through materials, allowing connections reaching up to 10 times farther, 100 times the area and 1000 times the volume of traditional Wi-Fi. Wi-Fi HaLow is perfect for IoT devices as it allows over 8,000 robust connections to a single access point, and can take advantage of new sleep modes that save power. Wi-Fi HaLow enables a new class of products that can run off batteries for years, and still offers many Mbps of data throughput.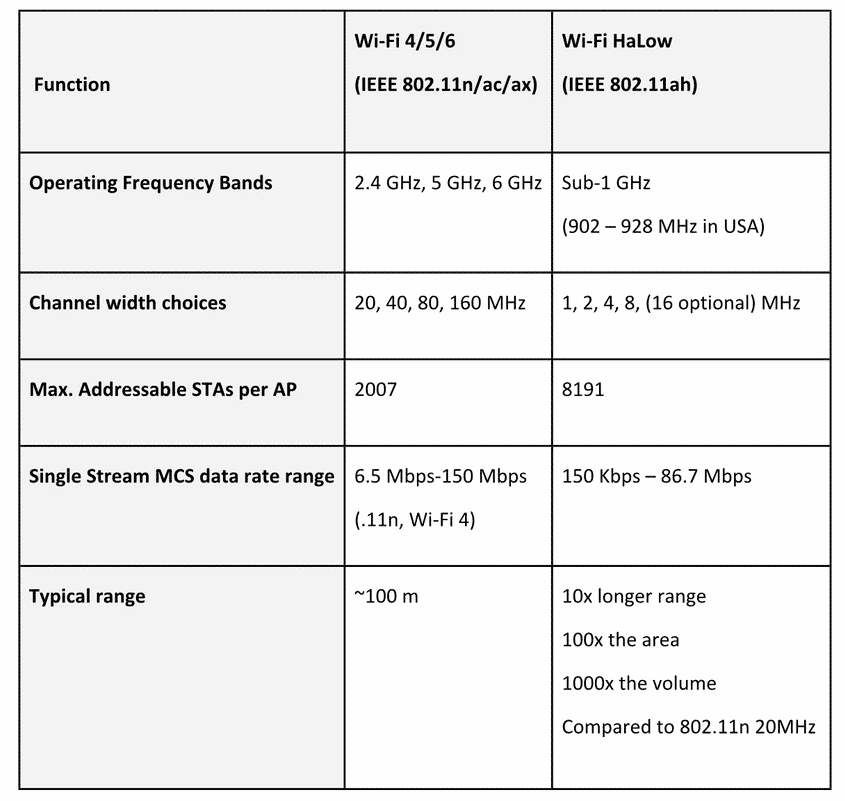 IEEE 802.11ah Wi-Fi Standard-based Approach for IoT
Wi-Fi HaLow enhances the wireless Local Area Network (LAN) to support today's most challenging IoT system requirements. It occupies a space between ultra-low-power, ultra-low-throughput and lower energy-efficient LoRa and Sigfox Low Power Wide Area Networks (LPWAN), the lower-throughput, shorter-range Personal Area Networks (PAN) such as Bluetooth/BT5, and the more power-hungry LTE Cat-M / Narrowband-IoT cellular networks that come along with data plans.
While the technological gaps had previously spurred sub-optimal proprietary solutions to address market demand, the new reality is that these gaps are now rectified under the IEEE 802.11 standards umbrella: System integrators can leverage the same hardware and software assets already developed for traditional Wi-Fi radios, enjoy multi-vendor product offering and benefit from the Wi-Fi Alliance interoperability testing and certification programs. Users no longer need to compromise on range, throughput, power consumption, network capacity, complex mesh network setups or monthly subscription contracts.
Wi-Fi HaLow Use Cases
In the initial stage of deployment, Wi-Fi HaLow is expected to be used in both indoor and outdoor applications where standard Wi-Fi cannot reach as in the case of battery-operated surveillance systems, wireless cameras, and smart-home doorbells. Another typical use case would be large venues, where a single HaLow access point can connect to thousands of devices, covering 1000x the volume of traditional Wi-Fi, bypassing complex, bandwidth limited and less reliable mesh architecture, simplifying installation and reducing total cost of ownership. Such an example can be found in large buildings, warehouses, offices, campuses, shopping malls and stadiums – benefit from the easy provisioning of cameras and sensors to enhance both the security and health of its occupants with advanced connectivity for Access control system (body temp monitors, face mask compliance, room occupancy limits and traffic-based surface cleaning/disinfection – all add up to the long list of applications). Industrial automation, process control sensors, building automation, logistics and asset management, agriculture and environmental sensors, mining, clean energy farms, digital signage and retail stores amongst many others will need this technology, enabling everything to remain connected in an increasingly automated world. Indeed, Wi-Fi HaLow stands out for its versatility.
Wi-Fi HaLow Is Here
All of the pieces are coming together, while alternatives are starting to lose their shine, especially around the IoT. Market adoption of Wi-Fi HaLow will surely result in reinventing Wi-Fi itself. Consequently, people will never see Wi-Fi the same again.